EVENT PLANNER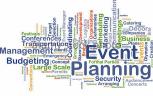 As a charity / fundraising / non-profit event planner, you have to bear in mind that you actually have two roles, that of event planner and that of fundraiser. Your goal is to create an event from start to finish, ensure it runs smoothly, and also ensure you hit your financial targets for the charity.
An Event Planner's duties include:
Daily communication with the production company to discuss the progress of the event and receive updates on suppliers
Managing the event budget, drawing up supplier contracts, and payment of supplier invoices
Supporting a volunteer committee with their fundraising efforts and ensuring they are kept up to date on all details of the event
Liaising with corporate sponsors, auction sponsors, and general donors to secure sponsorship and prizes via committee contacts
Updating the in-house PR team on the event, any media-worthy guests / dignitaries
attending, and any luxury auction prizes that could provide positive pre-publicity."
If this sounds like something you're interested in, please apply today!
*This is a volunteer position only.