NEWSLETTER EDITOR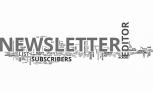 The Position:  
Get in on the ground floor to help SEML launch a monthly newsletter to share information, maintain visibility and gain support for its mission.
 
Qualifications: 
 
• Be at least 18 years old – there is no maximum age!
• Excellent command of English writing, spelling and punctuation  
• Ability to work independently and to follow through on assignments  
• Ability to motivate and work with others or the desire to improve yourself in these areas  
 
Responsibilities: 
 
• Work with SEML Board to determine content for monthly newsletters and create calendar for newsletter work flow.  
• Collect and edit articles for newsletter; and write articles as needed.
• Design newsletter layout.
• Meet print or email blast deadlines.
 
Benefits:
In addition to the pride in yourself and heart-warming sense of knowing you have created a stellar newsletter, you will receive: 
 
• appreciation and acknowledgement of the talent, hours and energy that you volunteer;
• tangible product to add to your portfolio;
• a chance to learn new skills . . . or use current ones;  
• letters of reference, upon request; and,
• all the support you need from the SEML Board of Directors.

Reports to:
SEML Board of Directors 
 
Commitment: 
Approximately ten hours per issue (every month).  Minimum of one year – but please do feel free to stay longer.